I come from a family of collectors. My father used to collect Elvis memorabilia when I was a kid, and I remember his whole office was full of it. My grandmother used to collect coffee cups and had a special display case for them. My mom liked to collect anything pirate-themed. My sister collected and still collects soaps. I seem to collect tchotchkes, and with them–dust and clutter.
It has been brought to my attention that some people may not know what the word tchotchke means, and to that I say "what?" Because apparently no one has heard of the Yiddish word for "trinket," pronounced "chot-ch-kee." Except these things are trinkets and also they're less than that. They're garbage art. They're matches from cool restaurants and sparkly hair clips and hand-painted little trays and funny lighters and weird shit I've been given or found. I would say 1 in 7 of these objects are kept sentimentally and the rest seriously need to go into the trash. These trinkets also seem to be a great hiding place for hair ties, hair pins, dust, trash, and 4-year-old lip glosses.
My collection was keeping my room from being orderly, made labeling moving boxes practically impossible, and gave my best friend Andrew a heart attack every time he has ever had to look at my bedroom dresser. Luckily, I have recently gone through a series of moves both independently and with my family that have enabled me to throw away a lot of the junk I had accumulated (even some of the things I was sentimental about). I'm trying to keep it that way.
There is something so beautiful about a dresser with just a mirror, framed art, and maybe a candle or two as opposed to the 4 pens from Ping Pong in Chicago that I stole, my ex-boyfriend's iPhone head phones, like 48 crystals of various colors and abilities, and some restaurant mints.
The best example that I can give you is from the iconic Mary Kate and Ashley film, New York Minute.
Ashley opens her closet to calming color-coded minimalism.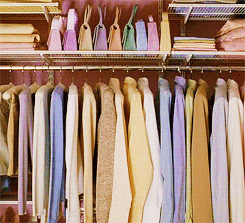 Mary Kate opens her closet to…this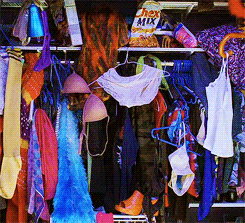 I know this is a closet and not my dresser, but the Chex Mix bag and the bra and the umbrella say otherwise (items likely found on my dresser amidst a weird mini-porcelain doll from Solvang, a press pass from the Pizza Experience, and a snow globe that says "Virginia Is for Lovers".
I'm not doing this for cleanliness, I'm doing this for minimalism. Moving fucking blows btw and I have had to do it 4 times this year, disregarding the countless trips I took independently where I had to haul my jewelry, skincare, and travel candle around the continental U.S. Having less stuff is just a life hack for an easier life if you're on the move (which I am, all of the time apparently). No, you don't need to fully "Marie Kondo" your place,  but I am saying having less shit on your dresser and shoved into drawers and on your nightstand could make yours and is making my room/house/life feel less stressful.
My tchotchkes all had an energy. That energy was crowding my life. I even threw away my ex boyfriend's headphones. It probably had his ear wax in it (nasty) and one of the pods didn't work anyway.
So I guess this is to say, please stop giving me things. If I tell you I want a souvenir from Seattle, please stop me unless it's a sweatshirt or one of those Sleepless In Seattle pajama tops. I don't need to keep restaurant matches unless I'm storing them in my purse (for emergency candle lighting). Don't offer me gemstone coasters or a sparkly dish for my rings. Don't give me a porcelain pony or a photo of Hillary Clinton. I am trying to declutter my life and embrace minimalism. I am trying not to be a tchotchke person.