When I worked from home, eating breakfast was an event.
I would fry eggs while I dialed into the morning editorial meeting. It wasn't uncommon for me to leisurely munch on avocado toast topped with tomatoes while editing something from a freelancer. But now I work in an office.
Whereas before, I had time to throw a bunch of fruit and mylks into a blender, now I have about 10 minutes to eat, brush my teeth, paint on a face and rip off my pajamas in favor of real pants.
I've trained myself not to get hungry until 8:45 A.M. when I'm in my car, one exit away from work.
In the shuffle (or in the interest of more sleep), I've completely lost breakfast.
My morning scrambles have turned into to-go iced coffees and at best a gluten free muffin or a Kreation juice. By 11 a.m. I am both starving and increasingly broke. Oat milk is an extra dollar! An extra shot is $2! (And of course, I need it.)
It's not that I don't WANT to eat breakfast. I do. But in the grand scheme of thing a.k.a arriving at work on time and with clean clothing on my body, I've stopped making it a priority.
Ideally, I'd love to save money and eat food from home or even AT home. But losing sleep just so I can butter a piece of toast and shove it down my gullet hardly seems like a realistic option.
Yes, I see people eating breakfast AT work but the thought of having a bowl of cereal at my desk sounds revolting. I don't want to microwave a frozen breakfast burrito because frankly–they smell like farts.
My office practices a weekly bagel Friday but I view the communal cream cheese as a breeding ground for bacteria. PLUS, I don't think dairy (cream cheese) is meant to sit unrefrigerated on a conference table for that long.
Meal prep comes to mind, but that always leads to some sort of Pinterest disaster and besides, I find overnight oats to be gross and gruel-like.
SO WHAT THE HECK DO I DO?
Don't suggest yogurt. I only like to eat that if it's covered in fruit and honey. I'd like to eat something nutritionally beneficial or at the very least, something besides a bagel.
I'd even settle for a filling (and tasty) green smoothie!
I miss breakfast and I want to become a breakfast girl again.
After all, it is the most important meal of the day.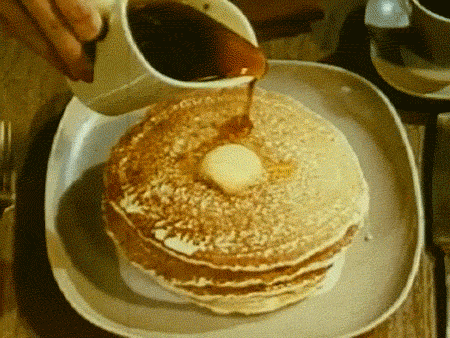 *Cue "Making Breakfast" by Twin Peaks*
Help me out and LMK in the comments below.
xo